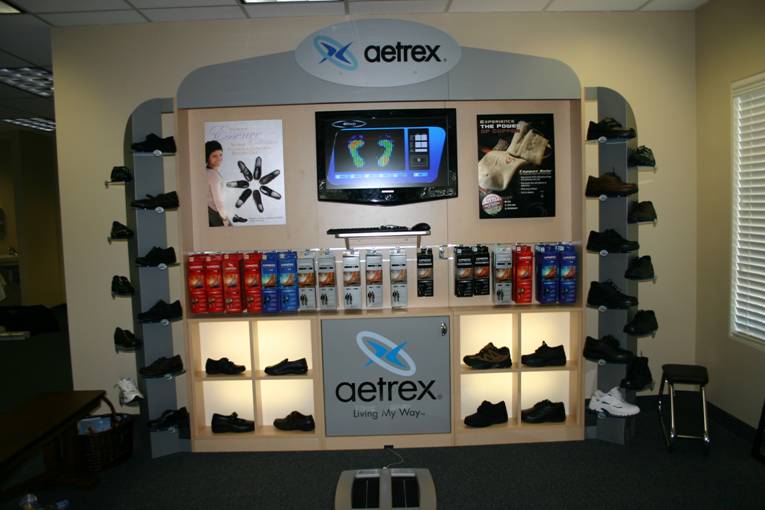 Healthy Steps was created for you with the proper fitting shoe and orthotic in mind. Whether you wear orthotics and need properly fitting shoes or are looking for shoes that are comfortable with style, let the staff at Healthy Steps be of service to you.
Healthy Steps is a division of Foot and Ankle Associates of North Texas (FAANT). Our Certified Pedorthist works closely with Podiatrists to ensure you receive the proper shoe gear for your feet. Therapeutic shoes for diabetics or other foot ailments are our specialty.
While there are many brands of shoes on the market, our focus is offering shoes that are therapeutic along with having a sense of style. We have selected the best shoes on the market for therapeutic use. Visit our store and review quality shoes from Aetrex, Dr. Comfort and Brooks. If you are having gait issues, we are at your service to provide customized orthotics for your needs.
We offer a full line of Medicare approved diabetic shoes and keep a wide range of sizes in stock. Often times this allows us to dispense shoes the day you come for fitting.
For those who are looking for assistance with over the counter foot pain relief, we offer products from Dr. Jill's, Spenco, Aetrex, Dr. Comfort to name a few.
Looking for custom orthotics for your feet? We have complete pedorthic services available to serve your needs. We have multi dimensional dynamic computer scanning from Footmaxx as well as traditional casting methods.
Healthy Steps proudly houses I-Step technology. The I-Step scans your feet and produces a digital picture of the bottom of your feet. This system allows our staff to adequately address pressure point concerns of your feet. The service is free and we welcome you to visit our store for your personalized scan.

Come and meet our staff, you are welcome to drop in or for a one on one discussion with our Pedorthist, contact us today for your appointment.
Appointment scheduling details
For shoes or other products:
Call 817-416-6155 and choose the Healthy Steps store option.
Anyone interested in diabetic shoes must schedule a shoe fitting appointment with our Certified Pedorthist. You must have a letter from your primary care physician stating that you are currently being treated for diabetes. You must also have a prescription from a physician for the diabetic shoes. During this appointment, our Certified Pedorthist will evaluate your foot type and shoe needs and help you choose the best shoe for you. Often, you will be able to take the shoes home with you that day. For some, shoes may have to be ordered and often arrive in a just a few days.
If you are not diabetic, but need help finding the right shoe, we suggest making an appointment with our staff for a more personal shoe fitting. Appointments are recommended. Please feel free to stop by and browse our selections.